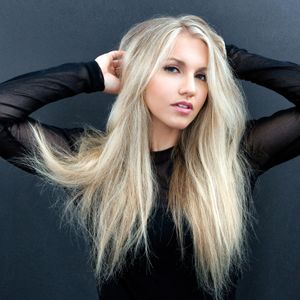 JENNA Nation is an R&B/Pop singing sensation who is quickly gaining momentum 
on the international music scene working with some of the best in the industry.
Considered by many as an outstanding vocalist with a charismatic stage presence ("stunning voice and melodic sound"..Music Connection), JENNA Nation has already hit some significant milestones in her career. Her fourth album, "You Don't Know" received numerous accolades including being named Canada's Best R&B Album of the Year (#9 for all genres, Canadian Music Magazine) and one of the 10 Best Records of the Year (Village Voice Magazine). Singles and videos released from this album were in the Top 10 on the Indie Radio Charts internationally for well over six months and her next single "Killer Love" jumped to #1 in its first week of release on VGR Radio in the UK and at #6 and #4 on the Radio Indie Alliance Top 10 Charts. 
Born in Ottawa, Canada, JENNA Nation was introduced to music at an early age through her musical family. She began her career with extensive training and success with classical music/opera and jazz. While studying at the highly respected Berklee College of Music in Boston, where she graduated Summa Cum Laude with her Vocal Performance Degree, JENNA began focusing on R&B/Pop. 
JENNA Nation has been featured in numerous major media outlets including iHeart Radio, Sirius XM, State of Hip-Hop, CP24 Television, Voice of America Radio, Music Canada Magazine, Musique Plus Video Channel, FYI Music News, Canadian Music Blog, Addicted Magazine, Canadian Beats, TunedLoud, Talent Watch TV, MusicPerk, mi2n (Music Industry News Network), Songwriters of Canada, and Global TV. 
Since she began singing, JENNA Nation has performed for the Prime Minister of Canada and as part of the Canada Day celebrations on Parliament Hill as well as at Grammy Week Showcase and at the Official JUNO's After Party in Calgary. In addition, JENNA has appeared at several famed festivals including RBC Bluesfest, the Newport Folk Festival, Boston Outside of the Box Festival just to name a few. Other highlights include performing at the world's largest urban music festival New Skool Rules in Holland where she was selected as Best Artist. JENNA Nation has also been a finalist for several international songwriting competitions. 
Other highlights include performing at the largest urban music festival New Skool Rules in Holland where she was selected as Best Artist. She has also opened for artists such as Shawn Mendes, Snarky Puppy, Lauv and Chromeo. JENNA Nation has been a finalist for several international songwriting competitions. 
JENNA Nation boasts a soulful and even jazzy vibe to her music. Long-time influences include Michael Jackson, Ella Fitzgerald, Judy Garland and Stevie Wonder - a notable name with whom she aspires to collaborate. JENNA Nation has worked with a number of Grammy and JUNO-nominated producers and songwriters including Boi-1da, Tommy Brown, Victoria Monet, Travis Sayles, Roger Ryan, Kinetics and One Love, Ryan "Ghost" Bowser, Elev3n, Druski, and Young Wolf Hatchlings among others. 
In a recent visit to Los Angeles JENNA performed at several venues including at the Live Nation HQ in Beverly Hills garnering a rave review from Music Connection Magazine.. "Her stunning voice and melodic sound captivated her audience ......This Ottawa native is the next big thing in the music industry. Not only does she have a sensational voice, she also interacts with the crowd labeling her an international superstar. .... JENNA is definitely an artist to look out for and an artist everyone should have on their playlists." 
JENNA has over 250,000 views on YouTube and is regularly charting in the Top Ten on the Worldwide Indie Charts and top 5 on several UK radio charts. Her album is currently playing on 750+ stations worldwide.
" A massive hit on a worldwide scale" - Chatsong Music, Netherlands 
"One of today's top artists. She is on Fire" - Indie-Spoonful